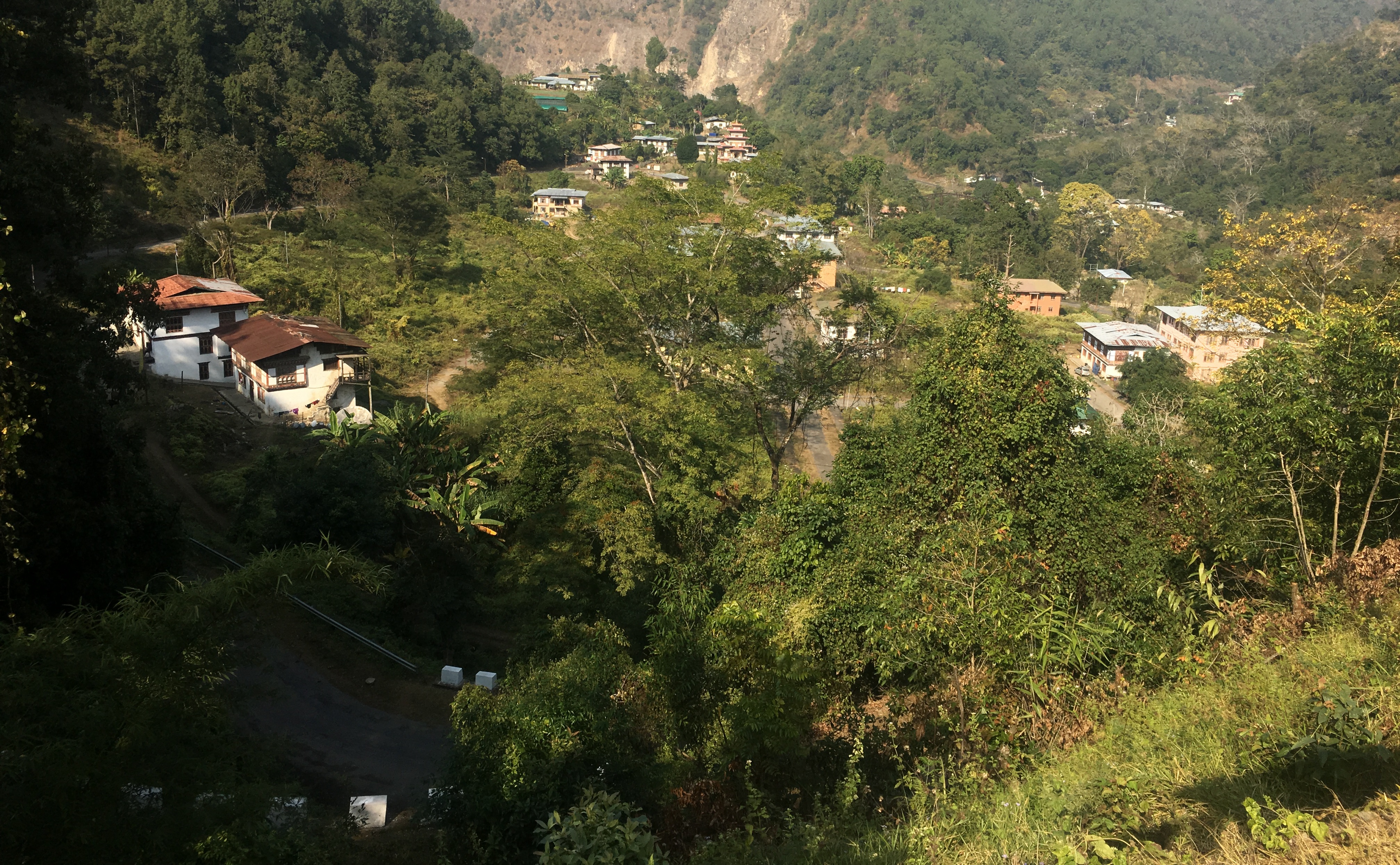 Brief History of Gewog
The Gewog administration is located at Tingtibi along Gelephu-Trongsa Highway. The name of the Gewog was derived from two local syllables 'Ting' meaning depth and 'Bi' meaning a piece of flat land. Tingtibi satellite town was established in year 1991. The Gewog Centre is 35 kms away from the Dzongkhag Administration and lies at an altitude of 500-620 meters above the sea level. It is extremely hot in summer and cold in winter. The Gewog is partly covered by two wildlife corridors viz., the Royal Manas National Park and the Jigme Singye Wangchuck National Park. Out of the eight Gewogs, Trong is considered as one of the prosperous Gewogs because of its proximity to the National Highway and accessibility to all five Chiwogs and villages.
Trong: The actual origin of the name Trong remains unknown. According to oral sources, a master from Zhamling, Tibet known as Lama Zhang founded the Zhemgang Dzong in 1153. He is believed to have been assassinated there, and therefore the place came to be known as Trong (an honorific term for assassination). Another version says that Trong is a corrupted version of khrong, which means a village in Khengkha (the local language).
Dangkhar village is located just below the Dzongkhag town area. People say that the village is originally known as Dhakhar, which in a local dialect would mean "dha" as signal and "khar" as place. It is said that the local residents passed the secrete information for the assassinating Lam Zhang, thus deriving its name. However, the original fact says the name of the village derived from its location, which receives the first rays of the sun. Rays of the sun referring to "dang" and "khar" the palce.
Zurphel is located on a sloppy terrain above Gomphu-Panbang Highway. The village is called as 'Zurbay' in the past, meaning the secret place or bay-yul.
Tama village is located close to Zhemgang Dzong on the hilltop facing Jowo-Durshing. The names of the village is derived from a female tigress (tag-mo) that roamed the hill, frequently killing inhabitants and domestic animals. Later, an Assamese saint was said to have visited the village and tamed the tigress by feeding it with milk.
Gomphu village is located above Gomphu-Panbang Highway on a hill top. As per the local dialect 'Gom' is meditation while 'Phu' refers to hills. The local residents and religious practitioners from other areas visited this area for meditation, thus deriving its name.
Subrang village is earlier known as Sibrangma. It is located above Gomphu-Panbang Highway. As per the local dialect 'Si' means a kind of wild bee while 'Brangma' refers to honey. Its pronunciation is now changed from Sibrangma to Subrang.
Tshanglajong village was known as Tshamlajong in the past. 'Tsham' in a local dialect would mean border and 'lajong' the unification. The village was named after the unification of two warring villages of Tshanglajong and Tongtibi.
Trong Gewog
Total Area (sq. KM): 353
Altitude Range (M): 1200-3000
Total Population: 5,679
Total Village: 9
Total Road (KM): 42.74
Total Household:

1143

(Includes Zhemgang Town -422 & Tingtibi Town -137)