VISION
"To ensure reliable, transparency, fair and just land administration in Zhemgang Dzongkhag"
MISSION
"To render effective and efficient public services"
BRIEF SUMMARY
"Land Record Sector "is a public service provider in the local government to fulfill the mandates of the commission which is aligned with the National objectives and plans. The sector moves beyond mapping, cadastral surveying and land registration to achieve sustainable development, employment generation and local economy enhancement through state land lease and User Right Certificate (URC)
Background:
The department of Survey & Land Record office was established under the Ministry of Finance in 1967 and in 1972 the office of the Chief of Survey was established. Later the Department of land record and survey was placed under the Ministry of Agriculture. However, after the enactment of land Act of Bhutan 2007, the National Land Commission was established as National Land Commission Secretariat under the Royal command.
Earlier, in the Dzongkhag level, land record sector consisted of land record assistant and surveyor, later on, Dzongkhag Land Record Sector constituted by Land Record Officer. In line with the Human Resource exercise of human resource division of Royal Civil Servant Commission, the staffing pattern of land record sector has revised to the post of Land Record Officer, Land Record Assistant, Surveyor, Land Inspector and Survey field Assistant. In 2014, the New Lagthram compilation of National Cadastral Resurvey Program (NCRP) of Zhemgang Dzongkhag has been issued as per the Royal Command, the 5th Druk Gyelpo. In 2016, a web based online system (eSakor) of land transaction was developed to access land information and transaction from any internet facilitated places.  Therefore, today Dzongkhag Land Record Sector is mobilizing on full swing of transaction with the improved quality services.
Land Record Sector Zhemgang Dzongkhag, SRLS Key Result Areas at a Glance
LGKRA 1: Poverty eradicated and inequality reduced through equitable distribution of land resource.

LGKRA 2: Culture & traditions preserved and promoted through safeguarding of historical, culture and heritage sites

LGKRA 3: Infrastructure communication and public service delivery improved through strengthening of public delivery flow at the grassroots

LGKRA 4: Corruption reduced through advocacy and awareness program to the public

LGKRA 5: Decentralization strengthened through dissecting of common land services from the central program

LGKRA 6: Livability, safety and sustainability of human settlements improved

LGKRA 7: Water security enhanced through mapping the critical water-shed areas.
Issues/Strategies/Opportunities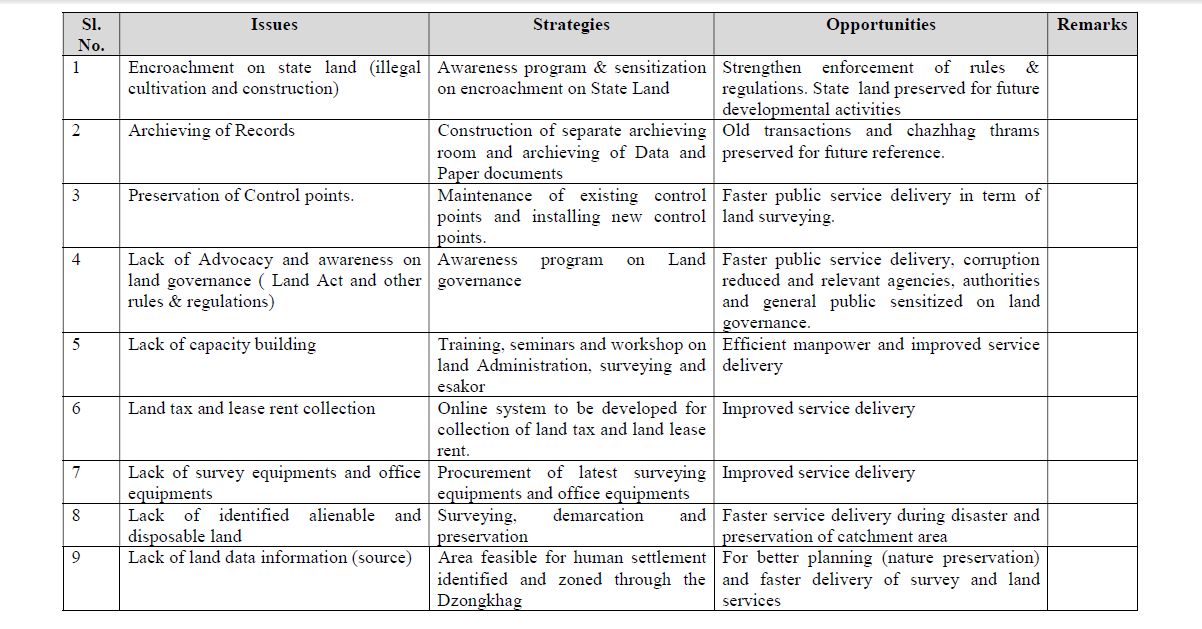 Five year and annual plans/ Activities/ Budget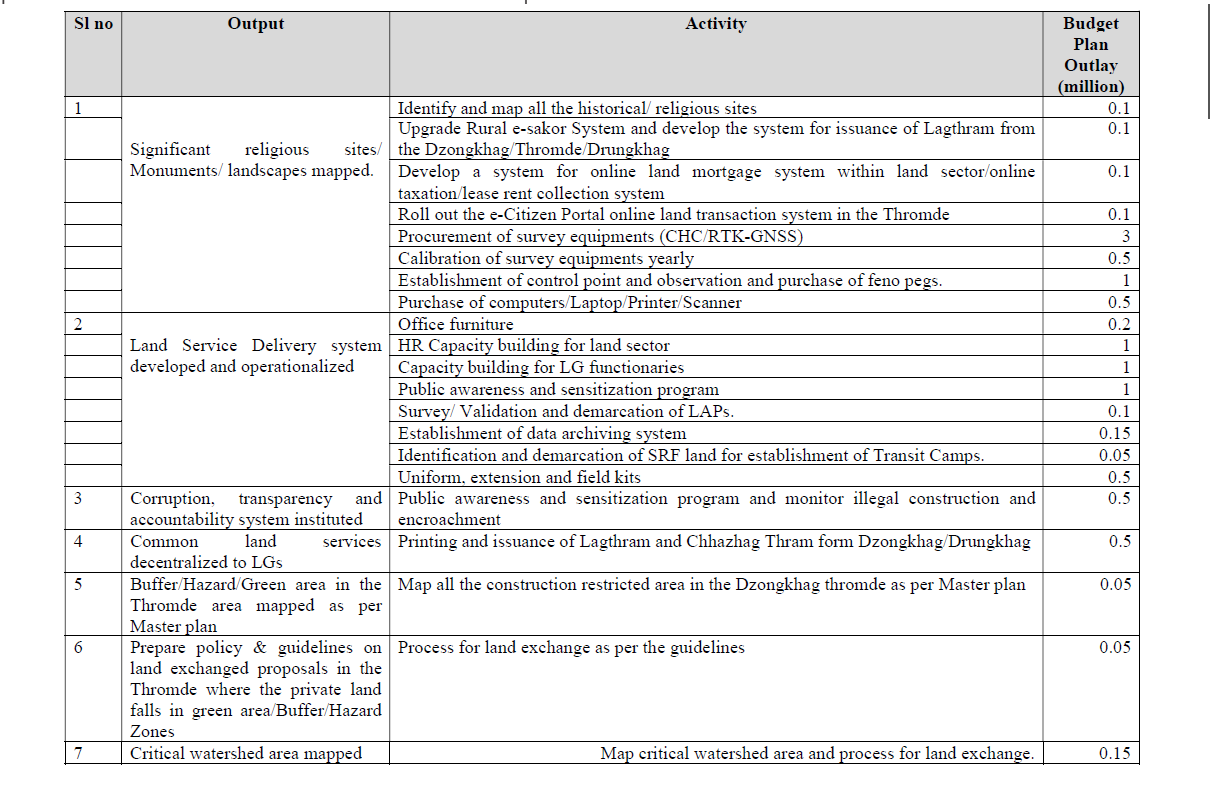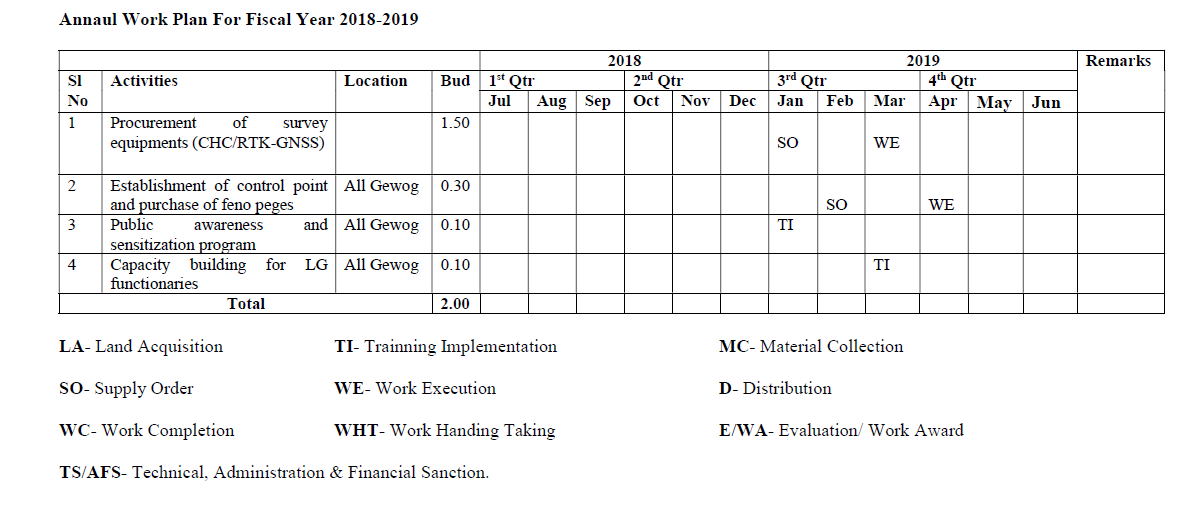 Major Activities

SOP
Method 1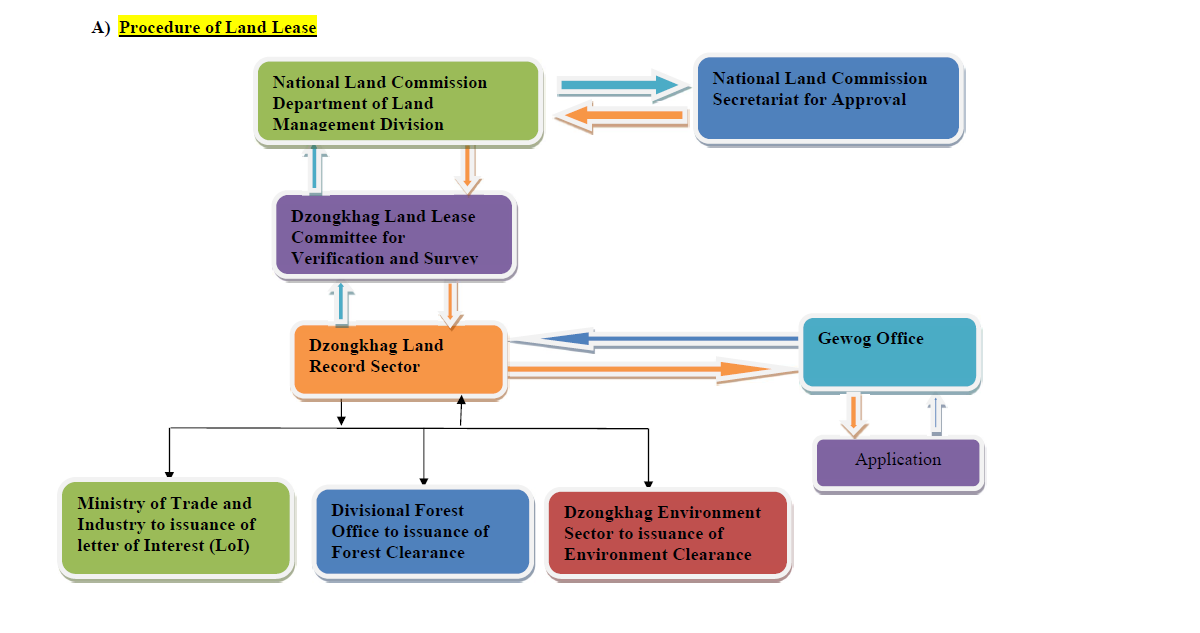 Method 2
Method 3